<![if !vml]>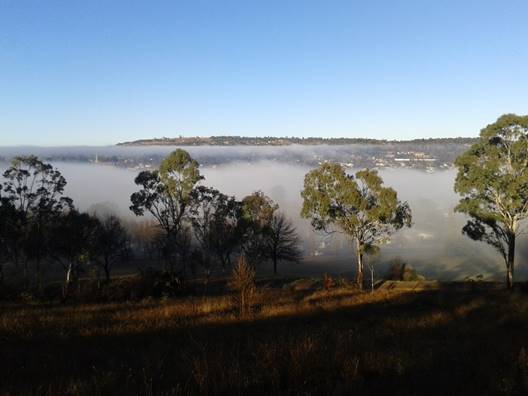 <![endif]>The Weather at Armidale NSW

The Official Website
All information from Bureau of Meteorology
weather stations in Armidale NSW Australia




Left:  After 40 mm of rain in two days flooding occurred in
Dumaresq Creek. This view looking west from Stephens Bridge
at 1pm on Wednesday 24th August 2016.

<![if !supportLineBreakNewLine]>
<![endif]>
---
Armidale Airport:  Current temperature and wind information. Further data from the airport HERE.
Note: the airport is 93 metres higher and five kilometres from the city weather station resulting in slightly different weather conditions occurring there. Winds are usually around 10 to 15 kms per hour stronger at the airport. Day temps are about one degree lower, and night and early morning temps can be around two to four degrees higher at the airport.

Armidale city weather station (click "refresh" for latest update)
Yesterday's maximum 27 Aug: 11.2C at 14:10 (AEST) This morning's minimum 28 Aug: -3.3C at 07:00 (AEST)

  Rainfall 24 hours to 9am today 28 Aug:  0.0mm
         

Latest Weather Forecast for Armidale
  Armidale Forecast


Guyra Weather
   Details on weather in Guyra here.
<![if !supportLineBreakNewLine]>
<![endif]>
---
<![if !vml]>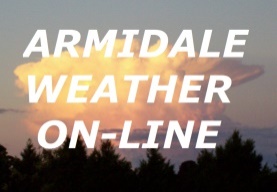 <![endif]>This Month - August 2016
Total Rainfall up to 9am on the 28th:
 143.0 mm    (Long term average: 48 mm)

This Year - 2016  up to 28th August:
Total Rainfall: 521.0 mm (Jan-Aug average: 493 mm, annual av: 784 mm)
Highest Daily Rainfall: 49.8 mm on 3rd Aug
Highest Temperature: 34.6C on 26th Feb
Lowest Temperature: -7.0C on 30 May
Hot Days - Temp 30C or higher: 15 (average: 14 days)
Cold Days - Maximum below 10C: 11 (average: 15 days)
Cold Mornings with Frosts: 63 (average: 99)
<![if !supportLineBreakNewLine]>
<![endif]>
---

Latest Weather News 2016
(using information from Armidale City weather station)

LATE AUGUST RAIN - WETTEST AUGUST FOR 64 YEARS - Monday 22nd - Thursday 25th August - A low pressure trough over north-east New South Wales generated moderate widespread falls of rain in the north of the state. Armidale recorded 57 millimetres for the 72 hours ending 9am on the 25th which resulted in moderate flooding in Dumaresq Creek. See photo above. This latest rain event brings the monthly total to 142.6 mm which is the highest for the month of August since 1952 (172 mm).

AUGUST DOWNPOUR - Tuesday 2nd/Wednesday 3rd August - A low pressure system developed over north-eastern New South Wales late on the Tuesday the 2nd generating moderate to heavy falls of rain over the Northern Tablelands and Mid North Coast. Rain started in Armidale at around 8pm on Tuesday and continued through to around 6pm on Wednesday. The total for the 48 hours to 9am on Thursday the 4th was 78.4 mm. Moderate flooding in Dumaresq Creek occurred during the day on Wednesday, and minor flooding on Thursday morning.

JULY RAINFALL:  33.6 mm on 7 days, 14 mm lower than the average. Most of the rain fell in two rain events - 5th-7th, and 20th-21st. Further details in the July 2016 Weather Review.  July 2016 daily data table here.

STRONG WINDS - Saturday 23rd July - Strong winds swept across the Northern Tablelands in the morning associated with the passing of an intense cold front. Wind speeds at Armidale Airport averaged between 45 and 55 km per hour from midnight to 12 noon with the strongest gust of 91 km per hour recorded at 1.36am.

WARMEST JULY DAYS ON RECORD - Tuesday 19th/Wednesday 20th July - The maximums of 20.4C on Tuesday and 21.2C on Wednesday were Armidale's highest July temperatures on record from 108 years of recordings. The previous highest was 20.1C on 28th July 1958 recorded at the post office (reading adjusted to be compatible with current recording site). The unusually warm conditions were caused by warm air from northern Australia being drawn into New South Wales by a low pressure trough.
The minimum on Thursday 21st of 14.2C was the highest July minimum since 3rd July 1942 (14.4C).

JUNE RAINFALL:  97.8 mm on 17 days, 43 mm higher than the average. Rain was well distributed throughout the month with the highest daily fall of 38.6 mm on the 5th. Further details in the June 2016 Weather Review.  June daily data table here.

COLDEST JUNE DAY FOR 67 YEARS & SNOW - Monday 27th June - Very cold air associated with a low pressure trough and cold air in the upper atmosphere reduced Armidale's maximum temperature for the day to just 3.6C. This was the coldest June day since 22nd June 1949 (2.6C), and was the coldest day for any month since 4th July 1984 (2.8C). Guyra's maximum on the 27th was 2.2C.  
The bitter conditions brought snow to higher parts of the Northern Tablelands including Guyra, Black Mountain, Ben Lomond, Ebor, Topdale. Some very light snow also fell in South Armidale in the evening.

JUNE COLD SNAP - Friday/Saturday 24th/25th June - A severe cold front brought strong winds, showers and light snow to the Northern Tablelands on Friday the 24th. There was no snow in Armidale, but the Guyra and Ebor areas recorded light snowfalls on Friday evening with snow remaining on the ground well into Saturday morning. Very cold air following the front reduced Armidale's maximum temperature on Saturday to 7.7C, while Guyra's maximum was just 5.0C.

STRONG WINDS - Monday 20th June - Armidale was buffeted by unusually strong westerly winds during the afternoon and evening. The highest wind gust at Armidale Airport was 80 km per hour at 3.54pm.

WARMEST JUNE DAY FOR 14 YEARS - Thursday 9th June - Warm north-westerly winds ahead of a cold front produced unusually warm conditions on the Northern Tablelands. Armidale's maximum temperature of 20.3C at 12.03pm was the warmest for the month of June since 7th June 2002 (22.3C).

JUNE RAIN EVENT - Saturday 4th/ Sunday 5th June - Moderate to heavy falls of rain were recorded over eastern New South Wales resulting from the formation of a low pressure system over the north-east inland of the state which then moved to the coastal region. Heavy falls and flooding occurred over coastal areas while moderate falls were recorded further inland. Armidale recorded 43.8 mm for the 48 hours to 9am on Sunday 5th. The 24 hour total to 9am on the 5th of 38.6 mm was the highest daily fall since 30 November 2013 when 50.8 mm was recorded.

WARMEST MAY ON RECORD - Despite a few cool temperatures at the end of the month, May 2016 was the warmest May on record (from 125 years of records based on maximum temperatures). The previous warmest May was in 1939.  May 2016 daily data table here.

MAY RAINFALL:  41.2 mm on 5 days, 2 mm lower than the average. Most of the rain (26.4 mm) fell in the afternoon and evening of the 26th. Further details in the May 2016 Weather Review.

COLDEST MAY MORNING FOR 5 YEARS - Monday 30th May - The overnight minimum of -7.0C was the lowest for May since 15th May 2011 (-7.2C). The very low recording was caused by the combination of cold air remaining after the passage of a trough, and a calm clear night. In Armidale temperatures drop below -6.9C on average of 4.3 days per year.

HEAVIEST RAIN FOR 4 MONTHS - Thursday 26th May - After months of dry conditions and light falls of rain, a rain band associated with a low pressure trough and front passed through the Northern Tablelands delivering good widespread falls. Armidale recorded 26.4 mm for the 24 hours to 9am on Friday 27th May, the highest daily fall of rain since early January this year.

TELEVISION REPORTING OF ARMIDALE'S WEATHER - Since 1st August 2015 when the Armidale city weather station ceased taking 3pm daily readings, all three television networks (ABC, NBN, Prime) in their evening weather reports now show the day's maximum and minimum temperatures from Armidale airport.
Unfortunately the airport temperatures are not as representative of conditions in the city due to its higher elevation. Overnight minimums in particular are often around 2 to 5 degrees colder at the city weather station which is located in the Armidale valley where temperature inversions are common on calm clear nights. More details on the reasons for temperatures differences between the two stations here.

Temperatures recorded at the city weather station can be accessed from the Bureau of Meteorology after about 9.40am here: 
9am daily summary - scroll down to Northern Tablelands.
Also here after about 10.15am:  Armidale daily observation tables.
The previous day's maximum and the current day's overnight minimum are also shown at the top of this page after about 9.30am.

WARMEST MAY DAY FOR 74 YEARS - Sunday 8th May - Warm northerly winds ahead of a cold front and trough produced unseasonably warm temperatures in parts of eastern New South Wales. Armidale's maximum of 24.8C at 2.00pm was the highest for the month of May since 5th May 1942 when 26.7C was recorded.

FIRST FROST OF THE YEAR - 5th May - Warm autumn weather kept the frosts at bay this year up until 5th May when under clear skies and calm conditions the temperature dropped to 1.1C at 7.05am to produce the first frost of 2016, ending a frost-free period of 215 days or seven months since the last frost on 2nd October 2015.

WARMEST APRIL FOR 11 YEARS - April 2016 was an unusually warm month with no cold outbreaks and maximum temperatures well above the long term average. As a result it was the warmest April since 2005, and the third warmest April on record (from 125 years of temperature records based on maximum temperatures). It was also unusual that there were no frosts during the month. The last frost-free April was in 2007.  April 2016 daily data table here.

APRIL RAINFALL:  35.6 mm on 10 days, 14 mm lower than the average. Further details in the April 2016 Weather Review.

HEAVIEST RAIN FOR 3 MONTHS - Friday 8th April - A low pressure trough over north-east New South Wales caused an intense thunderstorm to sweep across Armidale in the late afternoon dropping 15.0 mm of rain from 4.50 to 6.15pm and causing brief flash flooding in Dumaresq Creek. This was Armidale's highest daily fall of rain since 6th January this year (26.6 mm).

WARM START TO APRIL - HOTTEST APRIL DAYS FOR 30 YEARS - Wednesday 6th & Thursday 7th April - The maximum temperatures of 28.0C on both the 6th and the 7th were the highest for the month of April since 5th April 1986 (28.4C). The unusually warm temperatures were caused by hot north-westerly winds blowing into New South Wales ahead of a slow moving cold front and trough. Maximum temperatures were well above average in the first week of April.

MARCH RAINFALL:  28.0 mm on 7 days, 37 mm lower than the average. Falls were very light throughout the month with the exception of the 29th and 30th with 18.6 mm falling over these two days. It was also the warmest March for 18 years. Further details in the March 2016 Weather Review here.

FEBRUARY RAINFALL:  21.2 mm on 5 days, 67 mm lower than the average. It was the driest February for 27 years since 1989 (13.8 mm). The heaviest rain fell on the 4th (11.2 mm), with the remainder of the month almost dry. Further details in the February 2016 Weather Review here.

HOTTEST FEBRUARY DAY FOR 7 YEARS - 26th February - A low pressure trough over north-east New South Wales produced very high temperatures over the Northern Tablelands. The maximum in Armidale of 34.6C at 3.55pm was the highest for February since 9th February 2009 (35.0C). It was also the hottest day (for any month) since 23rd November 2014 (35.6C).


Weather News 2015
(using information from Armidale City weather station)

2015 WEATHER REVIEW - All the details on Armidale's weather in 2015 including statistics table here.

2015 RAINFALL TOTAL:  621.6 mm - 163 mm lower than the annual average. 2015 was Armidale's fourth consecutive year with below average rain. 

DECEMBER RAINFALL:  103.6 mm on 12 days, 15 mm higher than the average. Most of the rain fell in three events - 2nd/3rd, 16th/17th & 22nd/23rd. Further details in the December 2015 Weather Review here.

DECEMBER RAIN EVENT - Tuesday 22nd December - A second major rain event this month brought heavy falls to Armidale in the afternoon from thunderstorms, with rain continuing into the evening. Total for the 24 hours to 9am on Wednesday 23rd was 36.2 mm which was the highest daily fall for over two years. A low pressure trough over north-eastern New South Wales was responsible for the wet weather.

DECEMBER DOWNPOUR - Wednesday 16th December - An intense low pressure trough moved through eastern New South Wales generating showers and thunderstorms. In Armidale the storms arrived in the late afternoon with rain continuing into the night. Total for the 24 hours to 9am on Thursday 17th was 29.2 mm, the highest daily fall since 24th August this year.

NOVEMBER RAINFALL:  69.2 mm on 8 days, 14 mm lower than the long term average. The rain all fell in the first two weeks with the second half of the month completely dry. The highest daily fall was 19.6 mm on the 5th. Further details in the November 2015 Weather Review here.

WET START TO NOVEMBER - After two months of very dry conditions the first few days of November reversed the trend with 48 mm of rain recorded since the beginning of the month (up to 9am on the 6th). The welcome damp weather was caused by a number of troughs drawing in tropical moisture from Australia's north. The highest daily fall was 19.6 mm up to 9am on the 5th.

OCTOBER RAINFALL:  30.0 mm on 9 days, 38 mm lower than the long term average. Most of the rain fell during thunderstorms with the highest daily fall being 8.4 mm on the 22nd. Further details in the October 2015 Weather Review here.

SEPTEMBER RAINFALL:  18.8 mm on 9 days, 32 mm lower than the long term average. Most falls were light with the best rain on the 3rd when 11.0 mm fell during the day. Further details in the September 2015 Weather Review here.

BUREAU CUTS WEATHER OBSERVATIONS - From 1st August 2015 the Bureau of Meteorology has cut 3pm observations from 37 manually operated weather stations in New South Wales leaving only the 9am daily observations. Armidale has been included in the cuts. Details here. 


IS ARMIDALE'S CLIMATE BECOMING WARMER?  See for yourself. Go to the bottom of this page for the 125 year Armidale temperature graph.

SNOW IMAGES - Click on the link below to see a gallery of snow photographs taken in various locations on the Northern Tablelands over the last 30 years:
Snow images 1984 to 2015.

EBOR FALLS ICE AND SNOW (Historic Event) - In July 2007, after several mornings of sub-zero temperatures, Ebor Falls, 80 kms east of Armidale, partly froze and a mini snowfield was created by spray at the base of the falls. Photographs of this amazing event here.
<![if !supportLineBreakNewLine]>
<![endif]>
---
Forecast Rainfall
Where will it fall, when will it fall, and how much is likely to fall?
Click HERE to access the Bureau of Meteorology's four day rainfall predictions.
This Month's Daily Data
Click HERE for daily data for this month compiled by the Bureau of Meteorology. Data is from the city weather station at East Armidale except for wind and pressure readings which are from the Armidale Airport weather station.
More detailed daily data can be found below - Armidale Weather - Monthly Data Files.
---

<![if !vml]>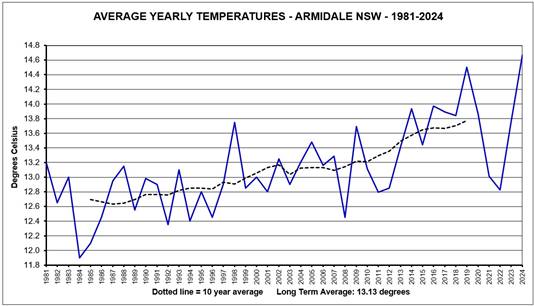 <![endif]>September in Armidale - what can we expect?
Normal conditions in September…
After the long cold winter September brings milder weather with temperatures reaching into the low twenties on about one in four days. It is a mostly sunny month, winds can often become gusty and strong from the west, rainfalls are light, and the first spring thunderstorms are likely towards the end of the month. The cold weather isn't completely over, cold fronts from the south-west will drop temperatures back to winter levels at times, and morning frosts will persist throughout the month.
Average max temp: 17.7 deg Average min temp: 2.5 deg
Average rainfall: 50.7 mm on 8 days Average fine sunny days: 19
Average days with thunderstorms: 2.4 Average frosts: 15
Average hours of sunshine per day: 6.8
Hottest: 28.7 deg on 26 Sept 2013 Coldest: -7.0 deg on 14 Sept 1992

National Climate Centre outlook for September 2016: Rainfall higher than the long term average, maximum and minimum temperatures cooler than the long term average.

<![if !supportLineBreakNewLine]>
<![endif]>
---
Armidale Weather
---
Weather at Nearby Locations & Links to Webcams & Automatic Weather Stations (AWS)
---
DO YOU HAVE ANY PHOTOGRAPHS OF ARMIDALE'S WEATHER? I'm always on the lookout for a good photo for the top of this page. If you have any which you think look good (interesting clouds, sunsets, hail, frosts, snow, floods etc) in or around Armidale, please email me here.
Information and statistics in these pages referring to Armidale are sourced from the Bureau of Meteorology weather station in East Armidale, station number 56037. Some data is also used from the Bureau's automatic weather station at Armidale airport, station number 56238.

Feedback or queries: here.
---


Armidale Yearly Temperatures 1891-2015


<![if !vml]>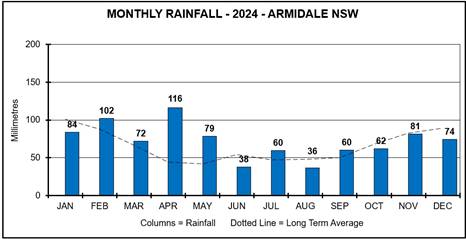 <![endif]>

The above graph shows the average (mean of average max and average min) temperature for each year from 1891 to 2015.
The dotted line is the ten year average.
Until 1997 temperatures were recorded in Armidale's CBD. Temperatures recorded since 1997 at the East Armidale site have been weighted to be compatible with the earlier recordings.
The ten year average dotted line shows periods of warming and cooling.
---