<![if !vml]>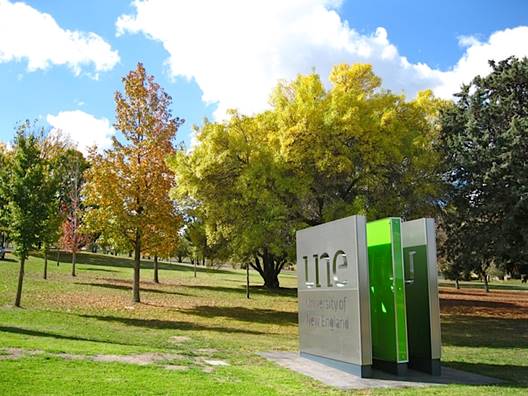 <![endif]>The Weather at
Armidale NSW


A compilation of present and past weather at Armidale NSW Australia
Armidale is located on the Northern Tablelands of New South Wales, elevation 987 metres
All information from Bureau of Meteorology weather stations in Armidale

Image:  Cirrus clouds and contrails over Armidale on 15 September 2023.
Contrails or condensation trails are caused by jet aircraft exhaust at high altitudes
Photograph by Maureen Heap
<![if !supportLineBreakNewLine]>
<![endif]>
---
Armidale Airport:  Current temperature and wind information from the airport HERE.
Note: The airport is 93 metres higher and five kilometres from the city weather station resulting in slightly different weather conditions occurring there. Winds are usually around 10 to 15 kms per hour stronger at the airport. Day temps are about one degree lower, and night and early morning temps can be around two to four degrees higher at the airport.

Armidale City Weather Station - click button below for current conditions:
Note: If temperature is shown in degrees F, go to settings icon at top right of screen and select degrees C.                                                  
<![if !vml]>

<![endif]>    

Latest maximum/minimum temps and 24 hour rainfall, updated daily at 9.30am  (refresh page to update)

   Yesterday's max 1 Oct: 26.0C   This morning's min 2 Oct: 8.2C

  Rainfall 24 hours to 9am today 2 Oct:  0.0mm

    Last Rain:  28 Sep     Next Rain:  4 Oct   (based on latest forecasts, may change)

  Armidale Forecast


Guyra Weather
   Guyra weather website

Dam Levels
   Malpas Dam


RAINFALL CHART  for your farm/home rainfall recordings.  PDF format - printable.
<![if !supportLineBreakNewLine]>
<![endif]>
---
This Month - October 2023
Total Rainfall up to 9am on 2 Oct:
 0.0 mm   (average 68 mm)

This Year - 2023     
Total Rainfall up to 2 Oct: 410.6 mm (Jan-Oct av: 612 mm, annual av: 783 mm)
Highest Daily Rainfall: 62.2 mm on 29 Mar
Highest Temperature: 31.6C on 26 Jan
Lowest Temperature: -9.2C on 20 Jul
Hot Days - Temp 30.0C or higher: 11 (average: 16 days)
Cold Days - Maximum below 10.0C: 1 (average: 15 days)
Cold Mornings with Frosts: 111   (average: 97)
<![if !supportLineBreakNewLine]>
<![endif]>
---

<![if !vml]>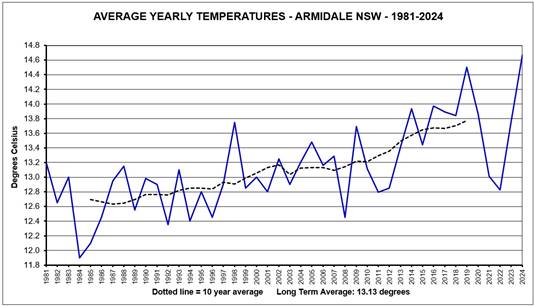 <![endif]>Weather News 2023
(using information from Armidale City weather station)

SEPTEMBER RAINFALL:  4.4 mm on 3 days, 46 mm lower than the average. It was the driest September since the drought year of 2019 (1.2 mm), and was the sixth consecutive month with below average rainfall.  September 2023 daily data table.

WARMEST SEPTEMBER DAY FOR 6 YEARS - 18th Sept - The maximum of 27.5C was the highest for September since 23rd September 2017 when 28.5C was recorded. The unusually warm conditions were caused by north-westerly winds drawing warm air into New South Wales from the centre of Australia.

COLDEST SEPTEMBER MORNING FOR 6 YEARS - 10th Sept - The early morning minimum of -5.4C was the lowest for September since 2nd September 2017 when -6.2C was recorded. Cold dry air in the wake of a cold front which passed through on the 8th caused the unusually chilly conditions.

WARMEST WINTER ON RECORD - The winter of 2023 was Armidale's mildest winter on record based on maximum temperatures from 133 years of records. The average maximum for the three winter months of 15.7C was 2.3C higher than the long term average, and was the highest since 1891 when reliable temperature records commenced. The unusually warm conditions were caused by strong high pressure systems moving across northern New South Wales keeping rain bearing systems with colder temperatures to central and southern parts of the state.  
The total rainfall for the three months was 50.2 mm, 150 mm less than the average.
Details in the Winter 2023 Weather Review.

AUGUST RAINFALL:  8.8 mm on 4 days, 39 mm lower than the average. Rainfall has been below average in every month this year with the exception of March. Details in the August 2023 Weather Review.  August 2023 daily data table.

JULY RAINFALL:  15.4 mm on 6 days, 32 mm lower than the average. The rain fell in the first week with the remainder of the month dry except for 0.2 mm on the 18th. Details in the July 2023 Weather Review.  July 2023 daily data table.

WARMEST JULY DAY FOR 7 YEARS - 30th July - The maximum of 20.1C was the highest for the month of July since 20th July 2016 when 21.2C was recorded which was the highest on record for July at the present weather station site.

COLDEST MORNING FOR 5 YEARS - 20th July - The minimum of -9.2C was the lowest temperature recorded since 15th July 2018 when -10.1C was recorded. A high pressure system over New South Wales combined with very dry air resulted in many low minimum temperatures over the state. The minimum at Armidale airport was milder at -4.8C. Temperatures in the Armidale valley drop to -8.0C or lower on average of two days per year.

JUNE RAINFALL:  26.0 mm on 6 days, 29 mm lower than the average. Daily falls were all light with the exception of 15.4 mm on the 23rd. June was the third consecutive month with below average rain. Details in the June 2023 Weather Review.  June 2023 daily data table.

COLDEST MORNING FOR TWO YEARS - 21st June - The minimum temperature of -7.6C was the lowest recorded since 7th July 2021 which was also -7.6C. The chilly morning was the result of cold dry air following the passage of a front two days earlier combined with a high pressure system over New South Wales which produced clear skies overnight with no wind. The minimum at the Armidale airport was a little milder at -4.4C. Temperatures in the Armidale valley drop to -7.0C or lower on average of four days per year.

MAY RAINFALL:  12.4 mm on 2 days, 30 mm less than the average, and was Armidale's driest month since June 2022 (10.2 mm). The rain fell over the two day period 15th-16th. Details in the May 2023 Weather Review.  May 2023 daily data table.

COLDEST MAY MORNING FOR 7 YEARS - 28th May - The minimum of -6.7C which occurred at 6.50am was the lowest for the month of May since 30th May 2016 when -7.0C was recorded. The minimum at the Armidale Airport weather station was a little higher at -3.4C. Such differences between the two weather stations are common on calm clear nights when temperature inversions develop in the Armidale valley.

FIRST FROST OF THE YEAR - 4th May - The first frost for 2023 with a screen minimum of 2.2C was recorded at 6.50am ending a frost-free period of 134 days since the last frost on 20th December 2022. The minimum temperature on the grass was -2.4C. This started a run of eleven consecutive frosts.

APRIL RAINFALL:  31.8 mm on 11 days, 13 mm less than the average. There were no major rain systems during the month, all falls were light except for a moderate fall of 16.2 mm on the 7th. Details in the April 2023 Weather Review.  April 2023 daily data table.

MARCH RAINFALL:  165.6 mm on 15 days, 99 mm higher than the average, wettest March since 2017 (201 mm). There were several moderate and heavy falls including 62.2 mm on the 29th which was the highest daily fall of rain for three years. Most of the rain for the month fell during thunderstorms.
Details in the March 2023 Weather Review.  March 2023 daily data table.

HEAVIEST RAIN FOR 3 YEARS - 28th/29th March - A low pressure trough over inland New South Wales intensified during the 28th producing thunderstorms and areas of heavy rain over the east of the state. Armidale received moderate to heavy falls in the evening of the 28th and morning of the 29th. The 24 hour total to 9am on the 29th of 62.2 mm was the highest daily fall since 18th January 2020.

SUMMER OF 2022/2023 - It was a dry summer with rainfall 103 mm lower than the average, and temperatures were unusually cool for the first three weeks. Details in the Summer 2022/23 Weather Review.

FEBRUARY RAINFALL:  64.8 mm on 10 days, 23 mm lower than the average. Most of the daily falls were light with the exception of the 27th when 27.4 mm was recorded from thunderstorms.  February 2023 Weather Review.  February 2023 daily data table.

COOLEST FEBRUARY MORNING FOR 18 YEARS - 5th February  - The minimum temperature of 3.7C recorded at 5.35am was the lowest for the month of February since 4th February 2005 when 2.5C was recorded. The unusually cool overnight conditions were caused by cool dry air being pushed north over New South Wales by a low pressure system and cold front passing over southern Australia.

JANUARY RAINFALL:  81.4 mm on 14 days, 20 mm lower than the average. The highest daily falls were 21.8 mm on the 23rd, and 21.0 mm on the 31st.
January 2023 Weather Review.  January 2023 daily data table.

------------------------------------------------------------------------------------------------------------------------------

Weather News 2022
(using information from Armidale City weather station)

2022 YEARLY WEATHER REVIEW - 2022 was the coolest and cloudiest year for 30 years. It was also the third consecutive year with well above average rainfall with flooding in Dumaresq Creek on 19 days. Details in the 2022 Yearly Weather Review here.  Includes statistics table.

2022 TOTAL RAINFALL:  962.2 mm, 180 mm or 23 per cent higher than the average. Rainfall was above average in eight months of the year with the wettest month being March which recorded 159.0 mm. 2022 was the third consecutive year with well above average rainfall (2020: 973 mm, 2021: 992 mm).

DECEMBER RAINFALL:  30.0 mm on 6 days, 59 mm lower than the average, and was the driest December since 2013 (22 mm). Daily falls were all light except for 18.8 mm on the 12th.  December 2022 Weather Review.  December 2022 daily data table.

COOL DECEMBER - It was unusually cool for the first month of summer. Based on maximum temperatures it was the coolest December for 11 years, but based on minimums it was the coldest on record (131 years of records).

COLDEST DECEMBER MORNINGS FOR 9 YEARS - 15th & 20th December - The minimum temperature on the 15th of 0.4C recorded at 6.00am, along with a light frost, was the lowest for the month of December since 7th December 2013 when 0.4C was also recorded. Cold dry air following two cold fronts being pushed north from the Southern Ocean into New South Wales resulted in the unusually chilly conditions.
The cool conditions continued for another five days with a second frost and minimum of 1.0C on the 20th. It is most unusual for frost level temperatures to occur in the second half of December.
Armidale's lowest December minimum on record at the current weather station site was -0.5C on 4th Dec 1987, and also on 7th Dec 2002.

COLDEST DECEMBER DAY FOR 11 YEARS - 1st December - It was an overcast drizzly day with cool easterly winds which restricted the maximum temperature to just 14.8C. This is 9 degrees lower than the average, and was Armidale's coolest December day since 7th December 2011 (14.0C).

NOVEMBER RAINFALL:  59.4 mm on 9 days, 23 mm lower than the average. The rain all fell in the first 15 days with the remainder of the month dry except for a light fall on the 28th.  Details in the November 2022 Weather Review.  November 2022 daily data table.

COLDEST NOVEMBER MORNING FOR 16 YEARS - 17th November - Cold dry southerly air following a cold front which passed through the region on the 15th caused the temperature to drop to -0.6C at 5.35am on the 17th. This was the lowest November minimum since 17th November 2006 (-2.2C).

COLDEST NOVEMBER DAY & NIGHT FOR 16 YEARS - 2nd/3rd November - The maximum temperature of 12.4C on the 2nd was the lowest for the month of November since 16th November 2006 (11.2C), and the minimum of -0.4C with a frost on the 3rd, was the lowest for November since 17th November 2006 (-2.2C). The unseasonally cold conditions were caused by cold air following a front and trough which passed through eastern New South Wales on the 1st and 2nd.

HEAVY RAIN & STRONG WINDS - 1st November - A strong cold front moved through north-eastern New South Wales in the early morning. Strong winds accompanied the front with gusts to 78 km per hour at Armidale airport between 2.30 and 3.30am, and gusts in excess of 50 km per hour in the Armidale valley. Heavy rain fell between 3.30 and 4.30am. Rainfall totals for the 24 hours to 9am: Armidale city 39.2 mm, Armidale airport 49.4 mm. The heavy rain caused moderate to major flooding in Dumaresq Creek.

OCTOBER RAINFALL:  148.0 mm on 18 days, 80 mm higher than the average. It was Armidale's wettest October since 1972 (157.8 mm). The majority of the rain (108 mm) fell during the 11 day period 17th to the 27th. Flooding occurred in Dumaresq Creek on four days. The highest daily fall was 30.4 mm on the 17th. Details in the October 2022 Weather Review.  October 2022 daily data table.

THUNDERSTORM, HEAVY RAIN & HAIL - 17th October - A low pressure trough over eastern New South Wales generated a number of moderate to heavy thunderstorms along the North Coast and Northern Tablelands. In the mid-afternoon a large multi-cell thunderstorm developed south of Uralla and slowly moved north reaching Armidale at 3.50pm with strong wind gusts and heavy rain. From 4.00 to 4.10pm small and medium hailstones up to 15 mm diameter fell, whitening the ground. The rain continued until around 4.30pm when the storm moved away to the north. 30.4 mm of rain and melted hail was recorded at the East Armidale station over the 40 minute period while the temperature dropped from 17 degrees to 9 degrees during the height of the storm. Some of the ice remained on the ground in shaded areas well into the following day before melting. The heavy rain was confined to the central and eastern parts of the city with west Armidale recording lighter falls. The Bureau weather station at Armidale Airport recorded just 0.2 mm from the storm.

SEPTEMBER RAINFALL:  113.8 mm on 14 days, 64 mm higher than the average. It was Armidale's wettest September since 1998 which recorded 116 mm.  The highest daily fall was 38.4 mm on the 22nd. Details in the September 2022 Weather Review.  September 2022 daily data table.

RAIN EVENT - 21st-24th September - A low pressure trough moved through New South Wales on the 21st and 22nd bringing widespread rain to the east of the state with moderate to heavy falls on the Northern Tablelands. A second trough brought further showers on the 23rd and 24th. The rainfall total in Armidale for the four days ending 9am on the 25th was 59.2 mm. With this amount of rain falling on already saturated catchments flooding occurred in Dumaresq Creek on the 22nd, 23rd and 24th.

WINTER 2022 WEATHER REVIEW - Winter 2022 was cloudy with milder than normal nights and rainfall close to average. Details in the Winter 2022 Weather Review.

AUGUST RAINFALL:  62.4 mm on 11 days, 14 mm higher than the average. Most falls were light to moderate with the exception of 27.8 mm on the 5th which caused moderate flooding in Dumaresq Creek.  August 2022 Weather Review.  August 2022 daily data table.

COLD SNAP - 23rd August - A fast moving severe cold front passed through the Northern Tablelands bringing strong winds, showers, low temperatures, and snow to the higher areas in the evening. Snow settled on the ground in Guyra, but there were only a few snowflakes in Armidale. The temperature dropped to 1.5C at 7.50pm as the front moved through.

JULY RAINFALL:  72.6 mm on 12 days, 26 mm higher than the average. Most falls were light with the exception of 35.0 mm which fell on the 6th causing flooding in Dumaresq Creek. Details in the July 2022 Weather Review.  July 2022 daily data table.

JUNE RAINFALL:  10.2 mm on 3 days, 45 mm less than the average, driest June since 2001 (4.4 mm). The rain fell on just 3 days (1st, 4th, 8th) with the remainder of the month completely dry. Details in the June 2022 Weather Review.  June 2022 daily data table.

MAY RAINFALL:  66.4 mm on 15 days, 24 mm higher than the average. The highest daily fall was 21.6 mm on the 13th. Details in the May 2022 Weather Review.  May 2022 daily data table.

STRONG WINDS on 30th May affected large parts of New South Wales as an intense cold front moved through the state. At Armidale airport wind gusts exceeded 90 km per hour between 6.25 and 6.40pm as the front passed through. In the Armidale valley at 6.30pm winds of over 60 km per hour brought down trees and powerlines causing blackouts to some areas with power not restored until the following morning.

WARM MAY WEATHER - 15th/16th May - The maximum temperature on 15th May of 23.2C was the warmest for the month of May since 8th May 2016 (24.8C), and the minimum temperature on the 16th of 14.1C was the highest for the month of May since 2nd May 1983 (14.1C). The unusually mild conditions were brought on by humid air moving from tropical Australia into New South Wales generating an abundance of cloud trapping heat close to the ground.

APRIL RAINFALL:  30.6 mm on 15 days, 14 mm lower than the average. Light falls were scattered throughout the month with the highest daily fall being 7.8 mm on the 4th. Details in the April 2022 Weather Review.  April 2022 daily data table.

FIRST FROST OF THE YEAR - 21st April - The first frost for 2022 with a minimum of 1.0C was recorded at 6.20am ending a frost-free period of 176 days since the last frost on 26th October 2021. The frost season in Armidale usually runs from early April to mid October.

MARCH RAINFALL TOTAL:  159.0 mm on 18 days, 93 mm higher than the average. It was the wettest March since 2017 with minor or moderate flooding in Dumaresq Creek on five days. The highest daily fall was 32.8 mm on the 7th. More details in the March 2022 Weather Review.  March 2022 daily data table.

SUMMER OF 2021/2022 - It was the coolest summer for ten years with well above average rainfall and only 18 sunny days. Details in the Summer 2021/22 Weather Review.

FEBRUARY RAINFALL TOTAL:  106.8 mm on 13 days, 19 mm higher than the average. The rain fell in two events - 2nd-6th (37.6 mm), and 20th-27th (69.2 mm) with two weeks of dry weather in between.  February 2022 Weather Review.  February 2022 daily data table.

JANUARY RAINFALL TOTAL:  103.0 mm on 14 days, 2 mm higher than the average. The heaviest falls occurred in the first 16 days with lighter falls during the remainder of the month.  Details in the January 2022 Weather Review.  January 2022 daily data table.

WET START TO THE NEW YEAR - 1st January - Showers developed over the Northern Tablelands as a result of humid easterly winds and a low pressure trough over western New South Wales. A heavy downpour over Armidale dropped 40.6 mm of rain at the city weather station in a little over two hours between 11.40am and 2pm. This was Armidale's highest daily fall of rain since 18th January 2020 (61.8 mm). The rain was lighter at the Armidale airport which recorded 25.6 mm for the same period.
<![if !supportLineBreakNewLine]>
<![endif]>
---
TELEVISION REPORTING OF ARMIDALE'S WEATHER - Since 1st August 2015 when the Armidale city weather station ceased taking 3pm daily readings, all three television networks (ABC, NBN, Prime) in their evening weather reports report the day's maximum and minimum temperatures from Armidale airport.
Unfortunately the airport temperatures are not as representative of conditions in the city due to its higher elevation. Overnight minimums in particular are often around 2 to 5 degrees colder at the city weather station which is located in the Armidale valley where temperature inversions are common on calm clear nights. More details on the reasons for temperatures differences between the two stations and a list of Armidale's lowest temperatures here.
Temperatures recorded at the city weather station can be accessed from the Bureau of Meteorology after about 9.40am here: 
9am daily summary - scroll down to Northern Tablelands.
Also here after mid-afternoon:  Armidale daily observation tables.
The previous day's maximum and the current day's overnight minimum in the city are also shown at the top of this page after about 9.30am.


EVAPORATION - How much water is lost through evaporation every day/month/year from water storages on farms? During times of low rainfall, water loss through evaporation can be critical for the survival of pastures, crops and livestock. Evaporation readings have been taken at the East Armidale weather station since 1983, and this data has been used to build up a profile for the Armidale area of this important aspect of the weather. Details here:
Evaporation in Armidale.
---

IS ARMIDALE'S CLIMATE BECOMING WARMER?  Go to the bottom of this page for the 128 year Armidale temperature graph.

SNOW IMAGES - Gallery of snow photographs taken in various locations on the Northern Tablelands over the last 30 years:
Snow images 1984 to 2015.

EBOR FALLS ICE AND SNOW (Historic Event) - In July 2007, after several mornings of sub-zero temperatures, Ebor Falls, 80 kms east of Armidale, partly froze and a mini snowfield was created by spray at the base of the falls. Photographs of this amazing event here.
<![if !supportLineBreakNewLine]>
<![endif]>
---

Forecast Rainfall
Where will it fall, when will it fall, and how much is likely to fall?
Click HERE to access the Bureau of Meteorology's four day rainfall predictions.

This Month's Daily Data
Click HERE for daily data for this month compiled by the Bureau of Meteorology. Data is from the city weather station at East Armidale except for wind and pressure readings which are from the Armidale Airport weather station.
More detailed daily data can be found below - Armidale Weather - Daily Data Files.
<![if !supportLineBreakNewLine]>
<![endif]>
---

October in Armidale - what can we expect?
Normal conditions in October…

October is usually an "all seasons" month with warm sunny days interspersed with occasional wintry days with the passing of cold fronts from the south-west.
Day temperatures often reach into the mid-twenties, nights are still cool, but frosts are fewer and lighter.
Rainfall is on the increase and moderate falls are possible from thunderstorms.
Average max temp: 20.9 deg Average min temp: 5.8 deg
Average rainfall: 68.2 mm on 9 days Average fine sunny days: 17
Average days with thunderstorms: 4    Average frosts: 6
Average hours of sunshine per day: 7.3
Hottest: 32.4 deg on 7th Oct 2019 Coldest: -4.7 deg on 21st Oct 1986
<![if !supportLineBreakNewLine]>
<![endif]>
National Climate Centre outlook for October 2023:
An El Nino event has developed in the Pacific Ocean and is expected to last until at least the end of February 2024. El Nino events usually cause lower than normal rainfall over eastern Australia along with warmer than normal temperatures in the southern two thirds of the continent.
A positive Indian Ocean Dipole has developed and is expected to last until at least the end of spring 2023. A positive IOD usually leads to reduced rainfall over central and south-east Australia.
When a positive IOD and El Niño occur together their drying effect is typically stronger and more widespread across Australia.
For Armidale in October 2023 - Rainfall lower than the long term average. Maximum and minimum temperatures higher than the long term average.
<![if !supportLineBreakNewLine]>
<![endif]>
Armidale Weather
Weather at Nearby Locations & Links to Webcams & Automatic Weather Stations (AWS)
DO YOU HAVE ANY PHOTOGRAPHS OF ARMIDALE'S WEATHER? I'm always on the lookout for good weather photos for this website. If you have any which you think look good (interesting clouds, sunsets, hail, frosts, snow, floods etc) in or around Armidale, please email them to me here.
Information and statistics in these pages referring to Armidale are sourced from the Bureau of Meteorology weather station in East Armidale, station number 56037. Some data is also used from the Bureau's automatic weather station at Armidale airport, station number 56238.

Feedback or queries: here.
Armidale Yearly Rainfall 1878-2022

<![if !vml]>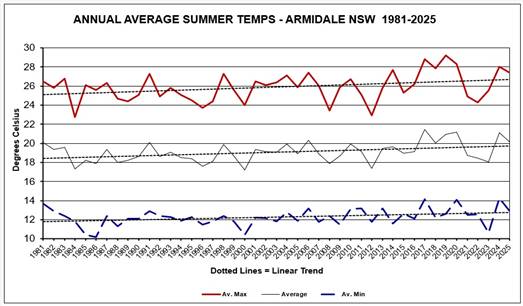 <![endif]>

Armidale Yearly Temperatures 1891-2022


<![if !vml]>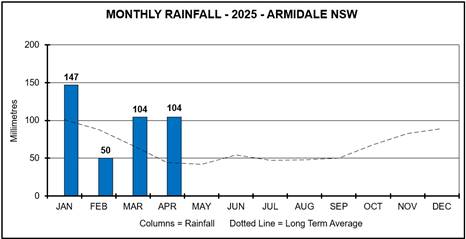 <![endif]>

The above graph shows the average (mean of average max and average min) temperature for each year from 1891 to 2020.
The dotted line is the ten year average which shows periods of warming and cooling.
Until 1997 temperatures were recorded in Armidale's CBD. Temperatures recorded since 1997 at the East Armidale site have been weighted to be compatible with the earlier recordings.



<![if !supportLineBreakNewLine]>
<![endif]>

<![if !supportLineBreakNewLine]>
<![endif]>